I recently purchased the Snuggle Pedic Bamboo Combination Memory Foam Pillow for my 3 year old daughter. I was so impressed with it, I ended up getting one for myself.
That might sound a little strange to you. A 3 year old with a memory foam pillow.
But the reason behind the purchase is because I have a memory foam pillow in my bed. Every time my daughter climbs into the bed with me, she asks for the "squishy pillow."
I of course oblige her, and she is happy.
Recently she asked me if I would buy her a "squishy pillow" for her own bed.
My first thought was to buy her the same memory foam pillow that I have in my bed. Problem was, I couldn't find it anywhere.
So I started researching memory foam pillows that might be suitable for a 3 year old's frame. Since memory foam pillows are typically designed for adult bodies, they tend to be too tall for the short neck of a 3 year old.
During my research I came across the Snuggle Pedic Bamboo Memory Foam Pillow. I was immediately curious about the pillow because I never saw a pillow that allowed you to customize it by removing the stuffing.
I actually thought it was a pretty brilliant idea. It was exactly what I needed. The ability to customize the height of the pillow that best suited my daughters little frame. It seemed like the perfect memory foam pillow for kids.
Snuggle Pedic Pillow Review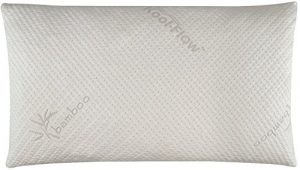 I ended up purchasing the pillow from Amazon.com in a standard size. They also offer a queen and king size.
Shortly after purchase I was emailed by the company that makes the Snuggle Pedic, Relief-Mart.
In the email, they thanked me for the purchase and offered me a little information about the pillow, and about the company. They also told me to contact them if I had any questions or concerns about the pillow. I thought that was pretty cool. A company that gives a crap. Who would of thought?
When the pillow arrived, as I expected it was rolled up like a tube and vacuum sealed.
I cut the plastic covering off, and the pillow immediately started to expand. It only took a few minutes to get to what I assumed was full size. But I gave it an hour or so just to make sure.
My first impression of the pillow, was that it had some heft to it. The thing weighed a bit more than what I was used to.
I was happy to realize that there wasn't any offensive odors or chemical smells that sometimes accompany memory foam.
The bamboo cover was surprisingly soft for being made with, you know, bamboo. I intended to put a cover on it anyways. Like most people do of course.
The density of the foam was in my opinion, very nice. This is of course subjective. But I would say that the pillow has a medium firm density to it.
In its delivered state, I could tell that it was much too tall for my daughter. I put my head on it and although it was very comfortable, I knew it would be much too tall for her.
The pillow has 2 covers on it. The outer bamboo cover, and an inner cover that houses the shredded memory foam.
I unzipped the covers to expose the shredded memory foam. I pulled out about 3 handfuls of the foam until it was roughly the same height as the memory foam pillow in my bed (the squishy pillow) and put the extra shredded memory foam into a ziploc bag in case I needed it at a later time.
I placed my daughters favorite Doc Mcstuffins pillow case on the pillow and put it in her bed. When bed time came around she was ecstatic to learn that she had her very own "squishy pillow." She continued to crawl into bed with me, but she now brings her own pillow with her.
Snuggle Pedic follow-up and my 2nd purchase
A few days after my daughters Snuggle Pedic arrived, I received a 2nd follow up email from Relief-Mart. They were just checking in to make sure that I was happy with the purchase. I thought that was pretty awesome. So far the pillow was great and I was extremely impressed with the company that made it.
I decided to purchase another Snuggle Pedic (queen size) for myself. The 2nd pillow arrived just like the first. I was happy with the height of the pillow on arrival, so I actually just left it as is and didn't remove any of the memory foam.
The pillow sleeps great. Its comfortable, and it stays cool. No unpleasant odors, and the density I think will appeal to most sleepers.
About Snuggle-Pedic
I just wanted to point out that the pillow is made in America. Talk about uncommon! The pillow also comes with a 90 night sleep trial. If you aren't happy, you can return it within 90 days for a full refund.
On top of that they offer a 20 year warranty against any defects. If the pillow flattens out any time within 20 years, Relief-Mart will replace it for free.
I personally think its an awesome pillow, backed by a great company.
You can get a good deal on the Snuggle Pedic Bamboo Combination Memory Foam Pillow at Amazon.com.