I was notified of a recent price reduction on the Lucid Gel Memory Foam Mattress on amazon.com.
If your unfamiliar with gel memory foam, its designed to reduce trapped body heat in the mattress. In the early days of memory foam mattresses a common problem was that the foam would hold and trap body heat while people slept. This created a hot and uncomfortable sleeping surface. They solved this problem years ago when they started using open cell structure foam, which did a much better job of dissipating body heat. They took it one step further with the advent of gel memory foam.
They infuse the foam with gel particles which absorb and trap body heat, keeping the mattress from overheating, keeping you cool and comfortable while you sleep.
The Lucid Gel Memory foam mattress incorporates 2.5″ of gel infused memory foam into their 10″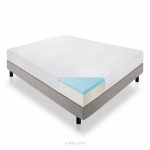 mattress. Lucid also ventilated the gel layer by adding perforation, which will aid in increased airflow. With a medium-firm rating the Lucid Gel Memory foam mattress is ideal for people who need or enjoy a bit more support while they sleep. Hear what some of the users are saying:
"It's now been about a year since I started using this mattress. I'm happy to report that it's still as great as it was when I first started using it."

"This is the deal of a lifetime. This is the most comfortable bed we have ever had."

"The mattress is awesome….I fall asleep and wake up without interruption. It's firm but allows me to sink into the bed I love it and I can't say enough about it."
Lucid includes a 25 year warranty against defects and premature wear. If purchased from amazon.com feel confident you can return it without worry if you decide its not the mattress for you. With almost 3,000 reviews and a great 4/5 star rating on amazon.com I think this mattress is a great deal.