With memory foam growing in popularity a lot of people are wondering if memory foam mattress toppers are just as good as memory foam mattresses. The short answer is, No. The longer answer is, its not quite as good, but its a great alternative IF a memory foam mattress is not an option for you.
So why isn't a memory foam mattress topper just as good as a memory foam mattress?
Layers. Memory foam mattresses utilize layers of foam that all work together to give your body evenly distributed support while you sleep. Think of it as a pyramid. The layers of foam at the top of the mattress wouldn't be able to provide the needed support if the layers below weren't there. Memory foam toppers on the other hand are a single layer of memory foam. Although they are great at adding comfort to an uncomfortable mattress, they are less great at providing support and reducing pressure points.
Now if your looking into getting a memory foam topper because you think memory foam mattresses are too expensive, I recommend taking a look at my pick for best budget memory foam mattress HERE.
If your still here, I get it, your not interested in the damn mattress! You just want the memory foam mattress topper! Well if your current mattress is causing you discomfort in the night, and you frequently wake up in fits of violent rage… I recommend a exorcism. Seriously though, if your mattress is uncomfortable a memory foam mattress topper can be a very affordable and easy way to increase comfort and help you sleep better at night. I recommend DreamFoam 2″ Gel Swirl Memory Foam Topper.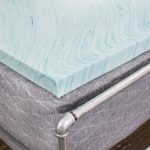 At just $62 (queen) this 2″ topper offers the benefit of gel infused memory foam. The gel particles absorb and dissipate heat, which helps regulate body temperature and keeps you cool while you sleep. With a 3 year warranty and a excellent return policy if purchased from amazon.com I recommend giving this topper a try. Heres what some of the users are saying:
"THANK YOU, whoever you are, for making this foam topper. It's so effective, it's life-altering."

"It gives you great support without being too soft or too hard."

"I have purchased more expensive mattress toppers but this is by far the best and the most economical."
Check more reviews (over 1,000) and price updates on the DreamFoam Gel Memory Foam Topper HERE at amazon.com