We all love our pets. They are members of our family. Did you know that dogs can suffer from the same discomforts as we do if they aren't sleeping on a forgiving surface. This is especially true for dogs as they age. Their joints require more support while they sleep to help keep them feeling good, happy, and healthy.
Memory foam can have the same benefits for dogs as it can for their owners. Alleviating pressure points, and maintaining spinal alignment.
Memory foam pet beds are becoming more popular as owners look for ways to keep their pets happy and healthy. Here are a few great options of pet beds that you may want to consider for your pet.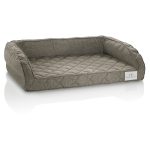 Available in 4 sizes and 3 color options, the Brentwood Home Memory foam pet bed is the ultimate in luxury for your pet. The 2 inches of gel memory foam keep your pet cool while he sleeps, while relieving body aches, joint pain, hip dysplasia and arthritis. The detailed stitching really adds elegance in my opinion, and wont detract from your home decor. Another positive is that this bed is waterproof. So any accidents, or the always pleasant 'drooling' is easy to clean and won't result in any mold or bacteria accumulation. The cover is also removable and machine washable. Brentwood Home offers a 3 year warranty. If purchased from amazon.com you also have the added benefit of their excellent customer support and easy and convenient return policy. In stock now and shipping for free at amazon.com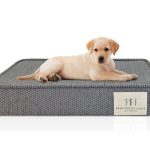 Another offering from Brentwood Home is the 4 inch gel memory foam orthopedic pet bed. With all the benefits of gel memory foam, this bed will keep your pet cool and comfortable while he sleeps. A classic and detailed design highlights this well made and durable pet bed. The 100% waterproof liner prevents against spills, mold and mildew, while the microfiber cover is removable and machine washable. Available in 4 sizes and 5 colors. Also included is a 3 year warranty from Brentwood Home. Currently in stock and shipping for free at amazon.com