Looking for a memory foam pillow, but don't want to spend a small fortune? I can help.
There a lots of cheap memory foam pillows available on the market that often get overlooked because of their price. I personally don't believe you have to spend a lot of money on a memory foam pillow to reap the rewards of memory foam. Their are plenty of great cheap and affordable memory foam pillows out there, sometimes it just takes a little trial and error to find them.
I compiled a list of some of my favorite memory foam pillows that won't break the bank. These may be 'cheap memory foam pillows', but don't mistake their price for lesser quality.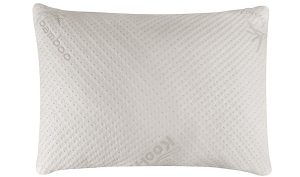 If your looking for a cheap memory foam pillow with a cute name, look no further. Cute name aside the Snuggle-Pedic delivers in both comfort and support.
Ideal for sleepers who prefer a medium-firm feel. Not too hard, not too soft. Goldilocks, if you will.
If your tired of pillows going flat after a month of use, the Snuggle-Pedic is worth looking into.
The makers of Snuggle-Pedic designed their pillow to hold its shape and not flatten out over time. This is important because a pillow that looses its shape no longer serves its purpose; To support the head, and help keep your spine in proper alignment. Not to mention a flat pillow is just plain uncomfortable.
If your sensitive to over-heating, the Snuggle-Pedic is designed to keep you cool with their extra breathable vented cover. This cover does a great job at promoting air flow and not trapping  heat inside.
Why I think the Snuggle-Pedic is worth a try
Theres no risk. The Snuggle-Pedic comes with a 90 night sleep trial. If you aren't satisfied with the Snuggle-Pedic, return it within 90 days, and get your money back. I thought that was pretty cool.
Hear what some of the users of the Snuggle-Pedic are saying:
"Quite simply the best pillow I've ever bought."

"This is such a fantastic pillow that I had to get a second one."

"Did Jesus Christ return and take the form of a pillow?"

---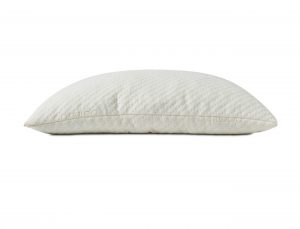 The Aliso by Brentwood Home is all about comfort and support. If your unfamiliar with Brentwood Home, its a company based out of Los Angeles. They design all of their products using natural, organic, non-toxic materials. Their premium products aren't lacking in quality, and the Aliso memory foam pillow is no exception.
The Aliso memory foam pillow offers a medium-firm feel, so it will appeal to most sleepers. One of the unique features of the Aliso is its ability to resist clumping. I've had plenty of pillows in the past that get uneven very quickly. All the stuffing seems to get drawn to one side of the pillow. The Aliso does a great job at preventing this, resulting in a even, more consistent sleep surface.
Bentwood Home addresses the common issue of over heating by coating the memory foam with a gel fiber. This unique process facilitates better air flow, resulting in a cooler sleeping surface.
Why I think the Brentwood Home Aliso is worth a try
I've always respected Brentwood Home's mission of providing safe, all-natural materials in their products. Its peace of mind for me knowing that the materials in my Brentwood Home pillows are not only safe for me, but more importantly my little ones.
Materials aside, the Aliso does a great job of appealing to most sleepers comfort preferences. Brentwood Home is so confident in their product, they offer a 30 day return policy if you aren't satisfied.
Hear what some users of the Brentwood Home Aliso are saying:
" It has taken me years and several pillows to find the perfect one!"

" Super comfortable – highly recommend!"

" If heaven punched me in the face, I imagine this is what it would feel like."

" Amazingly comfortable and cheap memory foam pillow."

---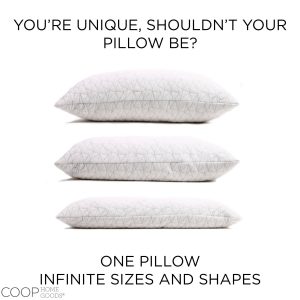 Coop Home Goods offers a unique take on the memory foam pillow in that they designed their pillow to be fully customizable. Coop Home Goods believes that the sleeper shouldn't have to adjust to the size and shape of their pillow. The pillow should be adjustable to the sleeper.
The Coop Home Goods pillow has two covers. The top cover is removable and washable. The inner cover holds their premium shredded memory foam. This inner cover has a zipper on it, which allows the sleeper to add or remove foam depending on their preference.
I think that this is a brilliant idea. Everybody is built differently. It just makes sense that we should be able to customize our pillow based on personal preference.
Due to the customizability of the Coop Home Goods pillow, it ranges from soft to medium-firm. So it will accommodate most sleepers preference.
Why I gave the Coop Home Goods pillow a try and why you should too
I think being able to customize the size, shape, and firmness of your pillow is just an excellent idea. Other pillows restrict the sleeper to predetermined specifications. With this pillow, if you don't like it, you have the ability to adjust it until you are satisfied.
Coop Home Goods fully stands behind their product and offers a 30 day money back guarantee. So if you just can't manage to find comfort with this pillow, send it back.

I intend to periodically update this list as more great affordable memory foam pillows come to my attention.
If you have any questions about my selection of cheap memory foam pillows please comment below.