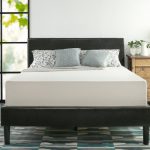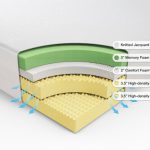 Zinus offers a unique feature on their mattress. They infuse it with natural green tea extract which helps reduce odors and maintain freshness.
Very affordable, the Zinus Green Tea mattress is soft and supportive. Many reviewers liken it to sleeping on a cloud, yet provides plenty of support. It comes in all the standard sizes, from twin all the way to California king. They also offer 3 options on the mattress thickness. 8 inch, 10 inch, and 12 inch so you can customize depending on your needs.
If your concerned about longevity of your mattress, Zinus offers a 10 year worry free warranty. The Zinus Green Tea mattress has over 3,000 reviews and a excellent 4.5/5 star rating on amazon.com. I know purchasing something like a mattress without being able to test it out first is not ideal, but I can't say enough good things about Amazon and their customer support. If the mattress does not meet or exceed your expectations, Amazon will work with you in handling the return. In stock and shipping for free from amazon.com.
---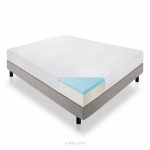 Lucid Gel Memory Foam Mattress has a 2.5″ ventilated gel infused layer. The gel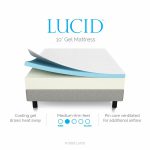 infused layer helps regulate body temperature while conforming and providing support. The ventilation ensures that the mattress doesn't overheat during the night, while the soft memory foam cradles your body, giving the impression the mattress is 'hugging' you. Lucid gives their mattress a medium-firm feel rating. So if you prefer a more supportive feel while you sleep or if you are a heavier person this might be a good option for you.
The Lucid Gel Memory Foam Mattress comes in 9 different sizes, so they will have what you need.
Lucid stands behind their product with a 25 year warranty. With just under 3,000 reviews, and a great 4.0/5 star rating, and Amazon's excellent return policy, you can feel confident giving the Lucid Gel Memory Foam Mattress a try.  In stock and ready to ship for free at amazon.com.
---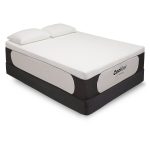 Classic Brands offers a very luxurious 14″ four layer cool gel memory foam mattress. The most expensive mattress on this list. Simply put your paying for more memory foam. At 14″ overall thickness and 2 layers of memory foam, Classic Brands was aiming to present an affordable luxury memory foam mattress.
The top cool gel layer is ventilated which promotes air flow, and doesn't trap heat inside. Under the gel layer is another layer of memory foam that gives the mattress a very soft and supple yet supportive feel. Classic Brands give their mattress a medium firmness rating. Medium firmness is ideal for sleepers who want the soft, cushy feel of memory foam, while still providing some firmness for support. Users say the top gel layer of memory foam helps regulate body temperature at night, while the 2nd layer alleviates pressure points and provides lumbar support.
Available in 6 sizes, Classic Brands is sure to have the size you need.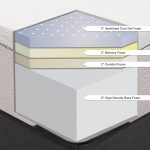 Classic Brands offers a 25 year warranty on their mattress. With an excellent 4.5/5 star rating and over 140 reviews the Classic Brands Ultimate Memory Foam mattress is worth taking a look at. In stock and ready to ship for free from amazon.com.
---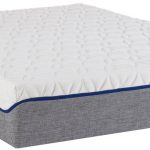 Mattress America offers comfort, support and value in their Revive Gel memory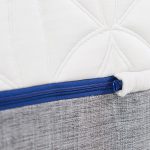 foam mattress. With 3 inches of Gel infused memory foam, you will sleep comfortably while maintaining a balanced body temperature. Supple, yet with the firmness and support you need. Another nice feature is the very attractive and easily removable and washable cover.
Available in 6 sizes. The Revive memory foam mattress has over 200 reviews and an excellent 4.5/5 star rating. With an incredible lifetime warranty and Amazon's convenient return policy, this
mattress really is risk free to try. In stock and shipping for free at amazon.com
---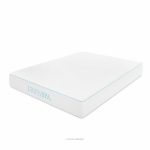 Linenspa designed their mattress with 3.5″ of gel infused memory foam. Linenspa gives their mattress a medium-firm rating that does an excellent job cradling the body and alleviating pressure points. The gel memory foam layer is actually infused with gel beads that are designed to capture heat and distribute it. The idea is to prevent overheating during the night while maintaining a more comfortable sleep temperature.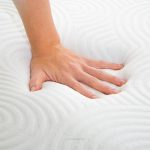 Available in 7 sizes and 2 thicknesses. Well reviewed with over 160 reviews and an excellent 4.5/5 star rating, coupled with Linenspa's 25 year warranty makes this mattress worth checking out. In stock and of course with free shipping from amazon.com.
---
Shipping
All of these mattresses ship fast and free from Amazon.com. For convenience and protection the companies compress, vacuum seal, and roll the mattress up for shipping. Sounds a little strange, but it makes moving and transporting the mattress much easier and less cumbersome while also keeping the mattress safe from damage during transport.
Setup
When your mattress arrives it will be compressed and rolled up into basically a tube shape. All you need to do is remove the outer plastic packaging, and lay the mattress flat. The mattress will expand to its full thickness within 24 hours. In my experience, I have never had the expanding process take more than 5 hours, but times may vary of course.