Memory foam mattress toppers are a good alternative to memory foam mattresses. They are affordable, comfortable, and can really increase the comfort of an otherwise uncomfortable mattress.
Most memory foam mattress toppers consist entirely of memory foam. Although they don't quite provide the support that a full memory foam mattress can, they do a good job of alleviating pressure points and improving quality of sleep.
Memory foam mattress toppers range in thickness from 1 inch up to 4 inches. You can typically expect to pay more for a thicker memory foam mattress topper, as they do a better job of reducing pressure points and have a longer life span. To get the most out of your mattress topper I recommend staying in the 2-4 inch range.
My Memory Foam Mattress Topper Recommendations 
---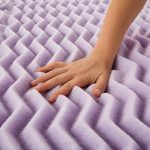 This 2″ memory foam mattress topper by Lucid is infused with the faint scent of lavender. Lavender is known to have a calming effect and promote relaxation. This topper also features 5 specialized body zones that help reduce pressure points in the 5 main trouble areas. The head, shoulders, hips, knees, and ankles. The unique grooved and textured surface is designed to increase air flow and help regulate body temperature.
Very affordable, this mattress topper has a rating of 4/5 stars on amazon.com and is offered with free shipping. See what some of the users are saying:
"Oh man it smells so good!"

"One word…amazing! Best night sleep I've had in years!"

"Amazing! So soft and fluffy and smells amazing!"
Available on amazon.com.
---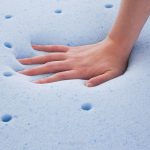 So maybe lavender isn't your thing. Here's another offering from Lucid. This 3″ topper is infused with gel particles that trap heat and help keep your body temperature regulated while you sleep. This topper is also perforated to help circulate air, which also helps aid in cooling. Highly rated with 4.5/5 stars on amazon.com and includes a 3 year warranty. Hear what some of the users are saying:
"Love it! VERY comfortable to sleep on."

"This has been an excellent addition to our bed. It feels like a brand new mattress."

"I have felt a lot of memory foam and this beautiful thing is the softest memory foam I've ever felt!"

"I have never slept better. It is impossible to leave my bed now."
Available now on amazon.com
---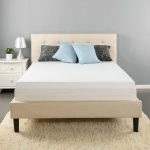 Sleep Master offers this 3″ 2 layer memory foam mattress topper. This is a unique design for a topper since it offers 2 layers. The top layer is 1″ memory foam that is infused with green tea extract and charcoal. The charcoal helps reduce odors, while the green tea extract helps maintain freshness.
The 2nd layer is 2″ of ventilated visco elastic air foam. This layer of visco elastic foam adds stability and support to the topper, while the ventilation helps promote air flow, which keeps the topper cool.
This is a good choice if your looking for a memory foam mattress topper that has a bit more support. Its available now on amazon.com and shipping for free.
---