Are you looking for the best memory foam pillow? I have a recommendation that I want to share with you.
When it comes to pillows, everybody has a preference.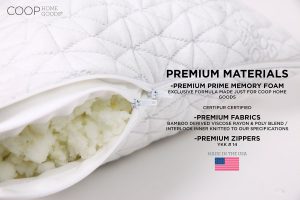 I discovered that every time I got a new pillow, it would take some getting used to. I would literally have to adjust my sleeping habits to the unfamiliar size and shape. I wanted to find a pillow that catered to me and not the other way around.
After researching many types of pillows, I found the Coop Home Goods memory foam pillow.
I wanted to write a review of the Coop Home Goods Pillow because Its such a cool and unique idea, but at the same time very functional.
Whats so special about the Coop Home Goods pillow 
The CHP is different because it is fully adjustable. The creators of the CHP came up with the simple idea of adding a zipper to the inner cover of the pillow thus allowing the sleeper to add or remove filling based on their preference.
The removable filling is actually premium shredded memory foam. This premium memory foam is certified safe, and free of any harmful chemicals or materials.
Such a simple idea, with huge benefits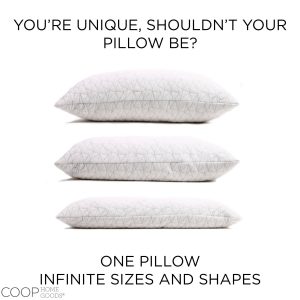 When my Coop Home Goods pillow first arrived, I knew right away it was much too thick for my liking. It was much taller then I was used to and threw my head out of alignment with the rest of my body.
I un-zippered the inner cover and pulled out about 2 handfuls of the shredded memory foam filling. When it looked about right, I zippered it back up and gave it a try.
This time it didn't just feel good, it felt perfect. It had a nice medium-firm feel to it, and cradled my head at the perfect angle. I would describe the feel of the pillow as 'familiar'. I say that because there was no adjustment period. Once I had it set-up the way I wanted it, it sort of felt like an old trusted friend.
Why I recommend it
Based off of my positive experience with the Coop Home Goods pillow, I can safely say I recommend it to anyone interested in giving it a try.
The ability to customize is a awesome idea in my opinion, and it translates well with this pillow.
Coop Home Goods offers a 30 day money back guarantee, so I thought that was pretty cool and takes the risk out of giving their pillow a try.

Have you tried the Coop Home Goods Pillow? Tell me about your experience in the comments below