My pick for the best memory foam mattress
Based out of Los Angeles, California, Brentwood Home manufactures all of their mattresses with organic, natural, high quality materials.
Their Brentwood Home Bamboo 11″ gel mattress has a medium-firm feel. Its the perfect combination of comfort and support, ideal for individuals who like that 'just right' feel. Not too hard, not too soft. The 11″ mattress consists of 4 layers
Natural Wool Layer
2.5″ Gel Memory Foam Layer
2″ Ventilated Airflow Layer
6.5″ Therapeutic Base Layer
The Brentwood Home Bamboo gel mattress gets its name from the bamboo derived rayon cover. The fully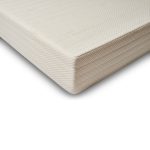 removable bamboo cover is durable and soft and stays true to their mission to manufacture their mattresses using natural materials.
Under the bamboo cover you'll find a layer of New Zealand wool at the top. This wool layer is naturally antimicrobial and moisture wicking to keep the mattress fresher, longer.
Following the wool layer is a 2.5″ layer of gel memory foam. This gel memory foam layer is designed to trap and dissipate heat while regulating body temperature. Keeping the mattress cool and comfortable while you sleep.
Following the gel layer is 2″ of ventilated foam. This layer provides spinal support, while also aiding in keeping the mattress cool by allowing air to circulate within the mattress.
Finally you have the 6.5″ therapeutic base layer. The base layer provides additional support while maintaining stability for the entire mattress.

Hear what some of the users are saying:
"I have rheumatoid arthritis and I'm always in pain, but on this bed I can sleep on my sorest parts and, not only does it not hurt, it actually makes it feel better!"

"Most comfortable mattress I have ever had."

"I have never bought a mattress on line, but I'm glad I did! No more pressure points, sore hips or shoulders."

"I'm in heaven … I'm in heaven with this new mattress!"
I am very impressed with the quality and attention to detail that Brentwood Home places into their mattresses. Their mission to provide organic, natural, and safe materials is refreshing to see, and I respect them for it. The comfort and support of the Brentwood Home Bamboo is excellent. This medium-firm mattress is a universal fit firmness. Most people will find comfort in this mattress. Brentwood home also goes above and beyond most other companies by providing an amazing 25 year warranty against manufacturer defects. If purchased through amazon.com you have the added piece of mind of their 30 day return policy. If you decide that this isn't the mattress for you, contact Amazon and they will work with you or schedule a return for a full refund.