If your in the market for a new mattress, but are working with a small budget, don't worry, I'm here to help. I've scoured the internet, poured over manuscripts, and seeked the wisdom of a Hindu Sage to find the best bargain memory foam mattress in existence. The verdict?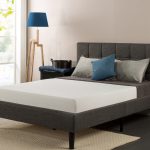 Zinus utilized their high quality foam and put it into a bargain mattress. They reduced cost by using a little less foam, and putting a more basic, yet still quality, cover on the mattress. The result is a plush, pressure reducing memory foam mattress that offers durability and stability. Here's what some of the users are saying about the Sleep Master.
"Awesome mattress for those on a budget."

"Seriously, where the hell else are you gonna get a decent mattress for this price?"

"I would recommend this mattress to anyone who asked, and I would purchase again if I had to do all over again."

"It's been a long time (4 years) and this mattress remains in the same condition as when I bought it."

"It is soft enough while firm enough as to provide great comfort to a person like me, with joint-related issues."

" The moment I first layed down on my new mattress my mind went into eternal bliss. The image of a swaddled baby Jesus coalesced in my mind. In that moment I knew my mattress selection was a sound choice."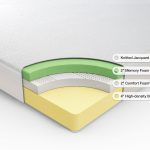 The Sleep Master 8 inch mattress places 2 inches of memory foam, 2 inches of comfort foam, and 4 inches of high density foam at the base. The combination creates an extremely comfortable yet highly affordable mattress, thats attracted thousands of buyers. With close to 3,ooo reviews and a rating of 4.5/5 stars on amazon.com, the Sleep Master is my pick for the title of Best Bargain Memory Foam Mattress.